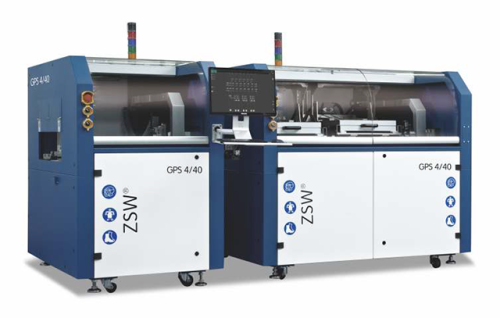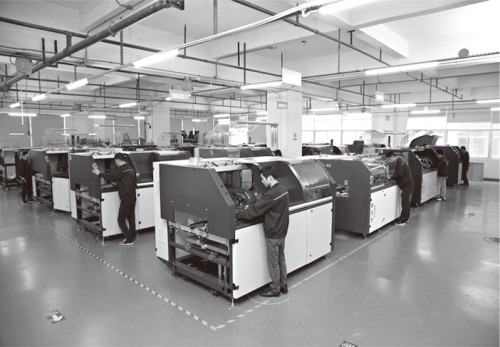 Multi-wave selective soldering system-G
Item specifics
Dimension(L×W×H)

1770x1776x1565 (mm)
Open height

2060 (mm)
PCB size

400mmX400mm
Transport width adjustment

50-400(mm)
Description
Multi-wave selective soldering system-G

MODEL

GPS 4/40

Equipment parameters

Dimension(L×W×H)

1770x1776x1565 (mm)

Open height

2060 (mm)

Transport and
welding parameters

Transport width adjustment

50-400(mm)

Guideway width modulation

automatic

PCB (fixture) size

400mmX400mm

Effective solderable range

350mmX350mm(Customizable)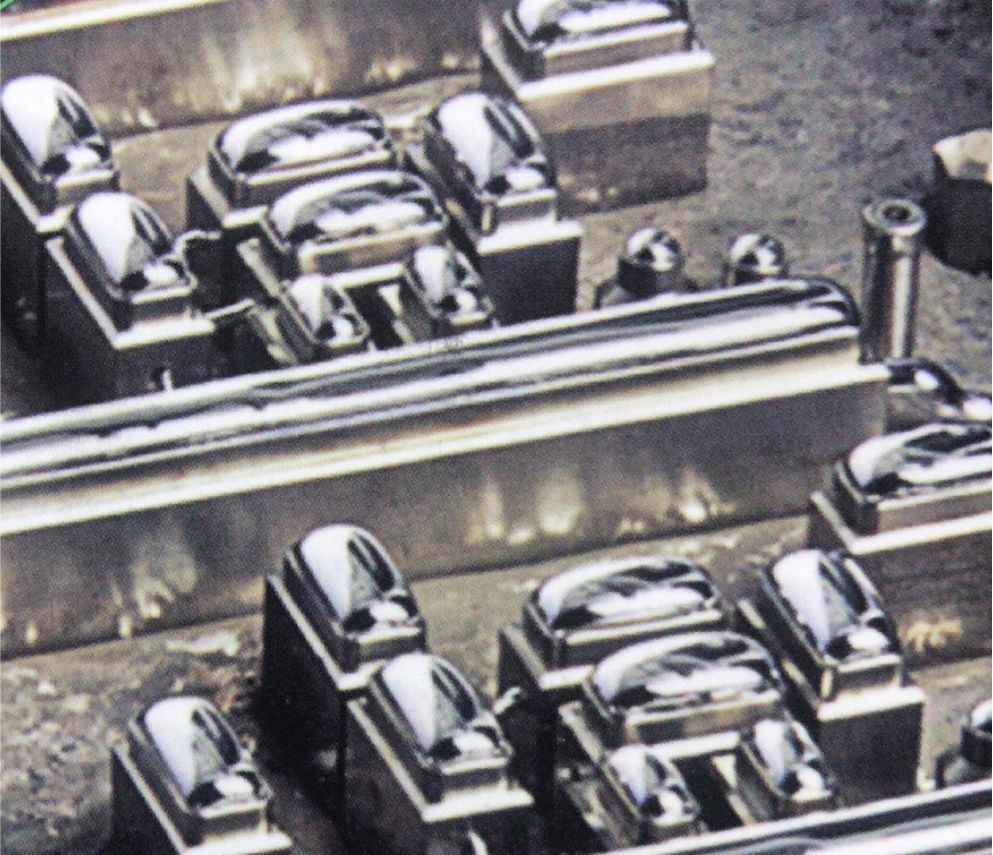 Introduction:
The spray head which is imported from Germany offers an absolutely precise and
well defined flux deposition on even the smallest areas. The flux is targeted to be
applied only to the solder joint,whereby the wettable area can be as small as 3
mm.with the effect that ionic contamination is minimized and flux consumption is
reduced.
Features Of Machine:
Saving 90%flux compared to traditional mode.
The wettable area can be as small as 3mm, minimize the effect of ionic contamination, meanwhile boards cleaning free.
Two axis servo motor control, high positioning accuracy.
Minimum ionic contamination.
Flux Module

Flux module x axis distance (max.)

510mm

Flux module y axis distance (max.)

450mm

Max. nozzle speed

7m/min

Flux content

2 L

Flux type

RO, RE and OR and with the effective standard of L0, L1, M0, according to IEC 61190-1-1

Flux effective level

L0, L1, M0

Nozzle

130 μm, alternative diameter

Spray pressure

0.5~1.0 bar

Spray width

2~8 mm (with spray nozzle 130 μm)

Spray speed

20 mm/s

Positioning speed

400 mm/s

Positioning accuracy

±0.2 mm

Flux system

2-axis With Servo Drive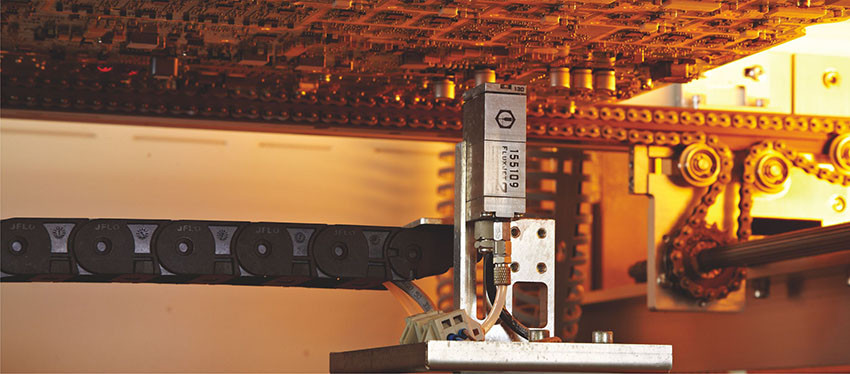 Flux Spray Module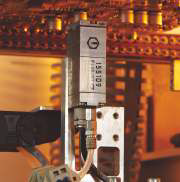 Germany Flux Nozzle

Introduction:
The current selective soldering processes, in particular those for lead-free soldering,
multi-layer boards or high mass components, call for increased preheat capacities.
Short wave IR heater on the bottom and hot air convective preheating on the top, to
ensure preheating evenly.
1, Segmented & modular layout, preheating more flexibly.
2, Lower short wave IR preheating on the bottom,increasing the efficiency.
3, Hot air convection preheating on the top, preheating more evenly (optional).
Preheating module

Top heater power

4KW

Top heater voltage

220V

Bottom heater powerr

4.8KW

Bottom heater voltage

220V

CDA pressure

0.5-0.7MPa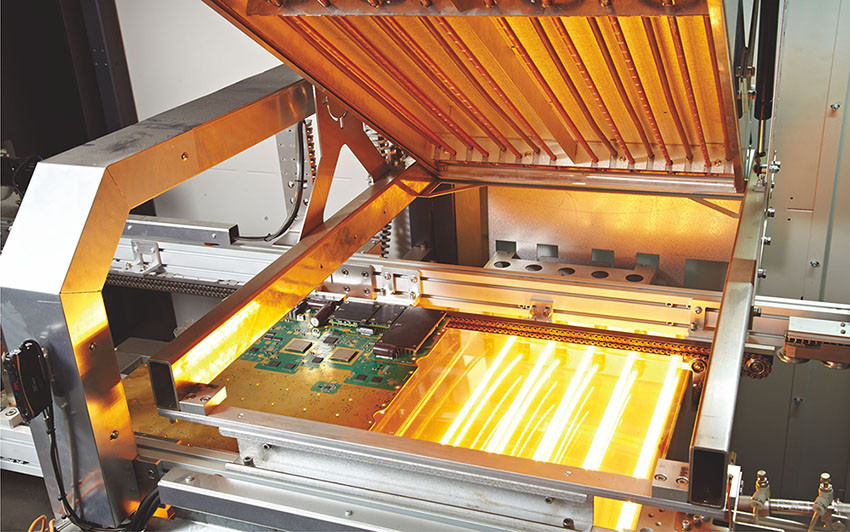 PREHEATING MODULE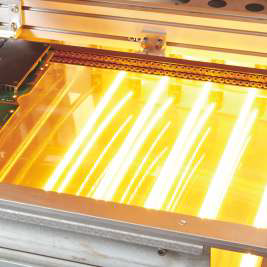 Bottom Short Wave IR Preheating
Advantages Of Using Induction Pump:
1,3-axis servo drives, high control precision.
2,Min.nozzle diameter is 3mm,point or track soldering available according to different through hole components.
3,Max.solder wave height is 5mm and controllable,soldering climb rate increased largely.
4,Dual-pot optional, highest flexible.
5,Nitrogen protection, only minute amounts of dross.
6,Pot temperature are continuously monitored.
7,Wave height monitoring available.
8,Solder level monitoring available.
9,No mechanical movement and no wearing.Solder wave stable and reliable.
Soldering module

Solder nozzle position

Middle

Solder content

13 Kg

Max. soldering temperature

350 °C

Min. internal diameter of solder nozzle

3 mm, External Diameter 4.5 mm

Max. Solder wave height

5 mm

Soldering speed X、Y-axis

10 mm/s

Positioning speed X、Y-axis

200 mm/s

Positioning speed Z-axis

100 mm/s

Positioning accuracy

±0.15 mm

Max.solder distance(x axis)

510mm

Max.solder distance(y axis)

460mm

Max.distance of z-axis

58mm

Max.pot moving speed

5.8m/min

Control system

3-axis With Servo Drive