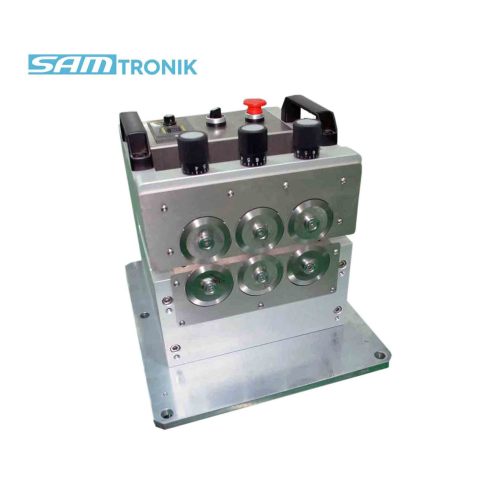 Item specifics
Machine Dimensions

325 x 382x 350mm
Platform (1.2M)

1200 x 506 x 350
Platform (2.4M)

2400 x 506 x 350
Max length of PCB

unlimited
Material of Blade

SK61D high speed steel
Description
led separator

Operation instruction:
1. Connect to the power supply and start the switch. Indicator lights 0 and 400/600 flash, press the button corresponding to the flashing light, the light will on continuously. Press the foot switch, and the upper blade will return to the origin and can move between 0 - 400/600. Touch key 0 or key 400/600 to allow the indicating light to flash, and touch 100/150. 200/300. 300/450. Any key can allow the corresponding two lights to make them on constantly, then the upper blade travels between these two lights and the upper blade can travel between any points of 0-400/600.
2. Adjust the gap between the upper and lower blades, generally between 0.1 and 0.2. The gap between the upper positioning blade and lower positioning blade is generally equal to the thickness of PC board.
3. The upper and lower cutters must be in the same plane, and the error cannot exceed 0.1mm.
4. Adjusting method of eccentric distance
5. The working platform can be adjusted upward or downward.
6. Set the cutting travel and speed, and setting method shall follow the adjustment method mentioned above.
7. Step on the pedal switch, and try sometimes. In case of no abnormity, formal work can be started.
| | |
| --- | --- |
| Machine Dimension | 325 x 382x 350mm |
| Platform (1.2M) | 1200 x 506 x 350 |
| Platform (2.4M) | 2400 x 506 x 350 (2.4M) |
| weight (1.2M) | 6KG |
| weight (2.4M) | 15KG |
| Max length of PCB | unlimited |
| Material of Blade | SK61D high speed steel |
| Cutting Speed | 300~500mm/s |
| Cutting Thickness | 0.2-5.0m |
| Operating temperature | 10-35 ℃ |
| Storage temperature | -20-50 ℃ |
| Voltage | 230V/50HZ,40W (110V/60HZ,40W) |
| ASC-700 | no platform |
| ASC-710 | with the 1.2M platform |
| ASC-720 | with the 2.4M platform |